GPS Constellation
The Global Positioning System Directorate has approved a change to the Navstar GPS Control Segment to User Support Community Interfaces (ICD-GPS-240 and ICD-GPS-870) which will remove GPS satellite plane/slot and clock information from the Operational Advisory message. This change proposal was approved by the GPS Interface Control Working Group in December of 2018. SVN/PRN, Block Type, and NANU details will continue to be included.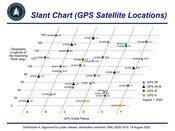 Click image for full size
A depiction of the GPS constellation of satellites with slot and plane designations is provided here as an easy-to-read graphic which will be updated as satellites enter or leave the constellation. During the GPS modernization process, the orbital configuration, as indicated by the constellation slant chart, and control station configuration may not match over the long term. For modelling purposes, the slant chart indicates actual orbital slot and plane assignments. It should be noted that the graphic merely identifies orbital slot and plane assignments and does not reflect the operational status of GPS satellites. The operational status of the GPS constellation is detailed below.
GPS CONSTELLATION STATUS FOR
---
General Information NANUs
2020089
2022002
2022016
2022042
2022054
2022086
2022104
2023042